New MAX Card Parts Discounts Available January to June 2020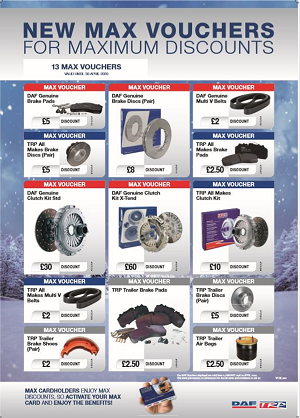 A great new selection of MAX vouchers are now available for every make of truck and trailer you operate.
These vouchers are valid until June 2020 and can be used for purchases made both over the counter and in the workshop - For MAX Card Holders Only.
To register for a MAX Card and for full terms & conditions, visit www.paccarparts.co.uk/maxcard
10th January 2020
---
Can't find what you're looking for?
Enter your postcode below to contact one of our TRP Truck and Trailer parts specialists
* Why do we need a postcode? - By entering your postcode we can automatically locate your nearest Truck & Trailer Part Specialist Dealer.