Register now for updates on NEW Tachograph Legislation
The new Smart G2V2 Tachograph is being introduced as part of the new EU Mobility Package legislation
This package aims to:
Address several problems, including social fairness, competition and improving the environmental performance of road transport ops
Tackle cross-border cabotage, improve driving and resting times and provide greater driver protection
To better control and enforce these standards, a new technically enhanced tachograph will be required. From August 2023, all newly registered vehicles over 3.5 tons must be equipped with the new 2nd-generation tachograph (Gen2).
As a result of UK-EU Trade and Cooperation Agreement (TCA), the UK has agreed to implement elements of the EU Mobility Package, including introducing the new tachographs.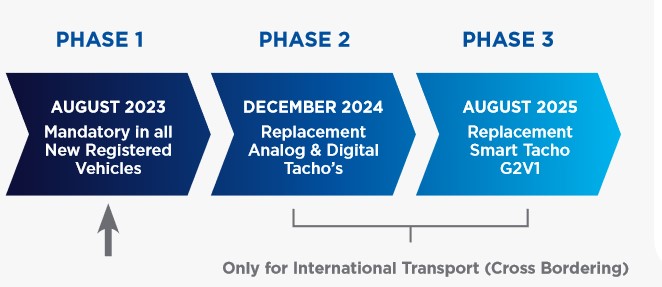 21st April 2023
---
New Tachograph Legislation
New vehicles over 3.5tons will be fitted with Smart G2V2 Tachographs from August 2023
The new G2V2 Tachographs will be available through TRP later this year. If you would like us to keep you up to date regarding product availability, please fill in the form below and select your DAF dealer.
We'll update you as availability details are confirmed.
---
Can't find what you're looking for?
Enter your postcode below to contact one of our TRP Truck and Trailer parts specialists
* Why do we need a postcode? - By entering your postcode we can automatically locate your nearest Truck & Trailer Part Specialist Dealer.