TRP Torque Issue 8 out now!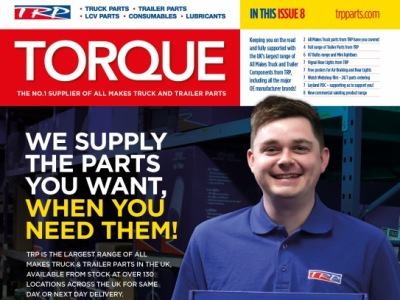 Our latest issue of TRP Torque, highlighting all the product groups available from TRP is in the parts department at your local DAF Dealer and TRP Shop.
This issue features all the many products that are available from the huge TRP range - now featuring over 95,000 parts! There are two indepth features, one on All Makes Truck parts, and the other on Trailer parts, showing how many products groups are covered for all popular models of both trucks and trailers.
Moreover, we proudly announce the launch of an entirely new range of valeting products, available in bulk pack sizes, delivering quality products that are also very cost efficient.
Check out the mailer at your local DAF Dealer or TRP stockist, and ask for a competitive quote from the largest range of all makes truck and trailer parts in the UK!
Enter your postcode here online to find your nearest dealer - and request a parts catalogue by entering your details - just click on the link on the homepage.
16th May 2022
---
Can't find what you're looking for?
Enter your postcode below to contact one of our TRP Truck and Trailer parts specialists
* Why do we need a postcode? - By entering your postcode we can automatically locate your nearest Truck & Trailer Part Specialist Dealer.