TRP Torque Issue 9 available at your dealer now!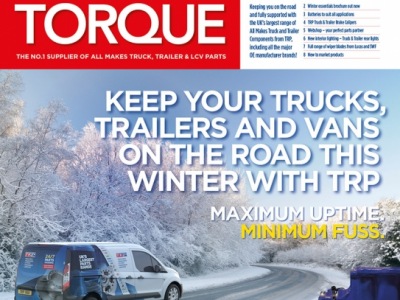 The latest issue of TRP Torque 9 is available from your TRP stockist now!
As this winter has already shown us how unpredictable the weather can be, this latest issue features a selection of TRP products ready to keep your fleet moving - whatever the weather!
With impressive stock levels, our national network of dealers and stockists can help you and your workshop with consumables, lighting, lubricants and top quality parts for light commercial vehicles, all makes truck and trailer parts - all from leading manufacturer brands, together with a growing range of TRP branded parts offering terrific value for money.
In fact this issue has an indepth feature on TRP Truck and Trailer Brake Calipers, complete with application details. Offering extremely good value for money, TRP calipers carry a 2 year warranty.
Other products from TRP include winter chemicals like high performance screen wash, anti-freeze, de-icer and a full range of valeting products to keep your truck, trailers and vans operating safely and looking smart when the roads are often wet and grimey.
A full range of batteries covering all applications are also highlighted, and your TRP stockist has workshop posters for customers to help identify the right battery for your vehicle - ask for a free copy.
Wiper blades from various top quality manufacturers are also included with an application chart for LCV's. The back page of this issue features new to range products, and a selection of the latest MAX Card vouchers, offering discounts off selected produsts for those with a MAX Card. Ask your stockist for details of how to join the MAX Card programme to take advantage of regular parts offers!
3rd January 2023
---
Can't find what you're looking for?
Enter your postcode below to contact one of our TRP Truck and Trailer parts specialists
* Why do we need a postcode? - By entering your postcode we can automatically locate your nearest Truck & Trailer Part Specialist Dealer.