TRP Winter Essentials brochure now available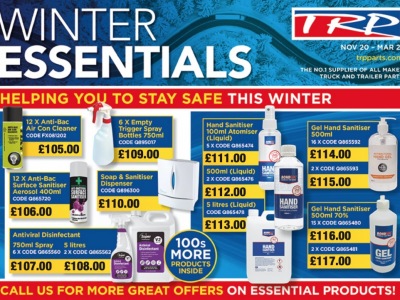 The new Winter Essentials brochure from TRP is available now at your nearest DAF Dealer and TRP stockist!
Packed with everything a busy workshop needs - especially at this time of year, helping to keep visibility high and technicians, drivers and other road users safe through the dark winter nights.
Now with a wide range of PPE cleaners and sanitisers, products also include:
Workshop lamps and torches
Sealants and cleaners
Screenwash and di-icer
Traffic film remover
Brushes, scrapers and squeegees
Hi-Vis and thermal clothing & gloves
Mini clamps, cloths & towels
Terminals & Connectors
First Aid kits
With 100's of product lines available in stock seach try us first! Find your nearest dealer here online by entering your postcode!
10th November 2020
---
Can't find what you're looking for?
Enter your postcode below to contact one of our TRP Truck and Trailer parts specialists
* Why do we need a postcode? - By entering your postcode we can automatically locate your nearest Truck & Trailer Part Specialist Dealer.